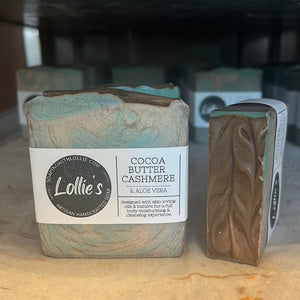 Soap perfection with notes of light spices, cedarwood, vanilla, tonka, coconut, jasmine, olive wood, sandalwood, amber, musk, and cocoa butter. Our balanced handmade soap gently cleans without stripping your skin of its natural oils.
Made from the highest quality ingredients of: Olive oil, coconut oil, sweet almond oil, castor oil, palm oil, cocoa butter, shea butter plus high-quality fragrance and essential oils.  Topped it off with a dose of Aloe Vera.
This may be available in stores in a different design.