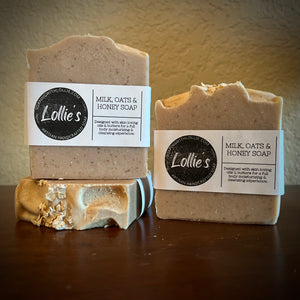 This soap starts with buttermilk and we then add finely ground organic oatmeal, local honey, beeswax and white kaolin clay. No fancy colors, no fancy designs, just the most amazing, decadent bar of soap scented lightly with our top selling fragrance made specially for this bar.  And the smell…oh my goodness!
Milk, Honey & Oats Soap is loaded with rich moisturizers, vitamins, and minerals your skin craves. Sweet notes of honey mix with natural grains of oats to complete this extra gentle exfoliating bar. This bar helps defend against dry skin and irritation with natural ingredients which make it a popular choice for folks with sensitive skin. An essential treat for everyday use, cleanse, moisturize and feel the difference in your skin for yourself. 
Our soap is hand-crafted with olive, coconut, castor, sweet almond oil, shea & cocoa butter and sustainably sourced palm oils, using the cold process method of soap making. They have an bubbly lather and leave your skin feeling soft and silky. Unlike commercial brands, our soap retains its glycerin, which makes for a naturally moisturizing soap. Formulated to produce a mild and luxuriously creamy lather that won't over-strip your skin of it's natural and beneficial oils.