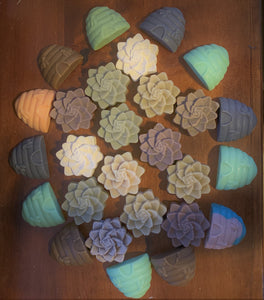 Adorable!! These soaps were molded in succulent and beehive shapes and are perfect to show off on your kitchen or bathroom counter in your favorite soap dish.  They come in a variety of scents from Lollie's lineup but no worries, they'll all make a perfect gift to yourself or a friend.  
Sorry, we can't take requests on fragrances but you can choose whether you want a succulent or beehive shape - just choose in the order dropdown option.
They measure just shy of 3" x 3" x 1".  That's almost a regular size bar of soap for 1/2 the price plus - did you see the cuteness factor of these!!!